SCOREFrame
Sports Livescore widgets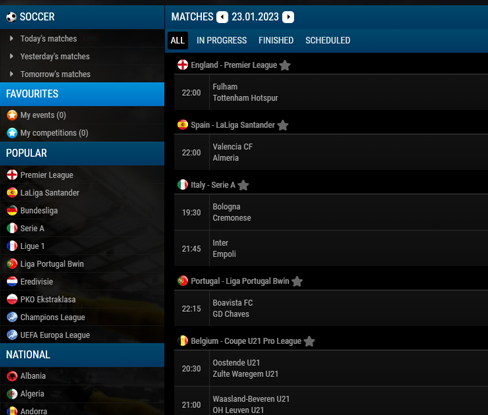 The only solution on the market to offer both: livescores and sport statistics in one place. It provides the most valuable information for your visitors – live results, standings, streaks, competition stats, head-to-head comparisons, top scorers and much more. ScoreFrame is a hosted solution that combines both live scores and sports statistics in one place. All data is updated and verified in real time 24/7/365. It remains the most up to date livescore system you will find. This is thanks to the fact that we collect a lot of our data directly from the venue!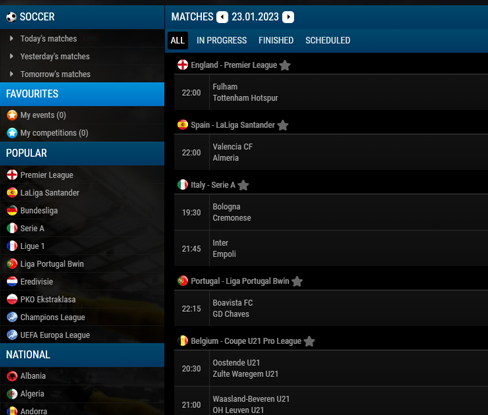 Highlights and Benefits
Lightning-fast in-play data with the lowest latency in the market (0-1 seconds)
Reduced operational costs; manual work is replaced with an automated solution.
Customization that meets your needs
Data coverage with an average of 5,000 events per month across 20 sports
Easy and smooth integration process alongside various code samples
Real-time Sports API Data, coverage of all top tournaments & leagues
Q&A
Are your services customizable?

Yes. We are happy to present you the existing customizations for our partners. Once you decide to use STATSCORE ScoreFrame we will prepare a special customization for you, matching your chosen colours, layout and icons.

Who uses your services?

We have many customers from affiliates, bookmakers to media, sport clubs and federations. We will be honoured if you become one of them.

Do you have a mobile version?

We provide our content solutions in a responsive design. This means the ScoreFrame will fit and act perfectly on mobile devices.

Will it be hosted on my server?

The hosting is on STATSCORE side. We ensure you a server that can handle the number of visitors declared by you. All you have to do is to paste the code at your website.

Is the advertising is possible in SCOREFRAME?

You are in the right place. With 15 slots for the ads ScoreFrame ensures a lot of advertising opportunities for your sponsors, offering a various sizes and places for the ads.

How many languages ​​do you cover?

There are more than 30 languages available at this stage. If you request adding another one, it will take us less than two weeks to display it.
Plug your product into
the best sports data feeds
in the world
Contact us