SEC
Sports Expert Chat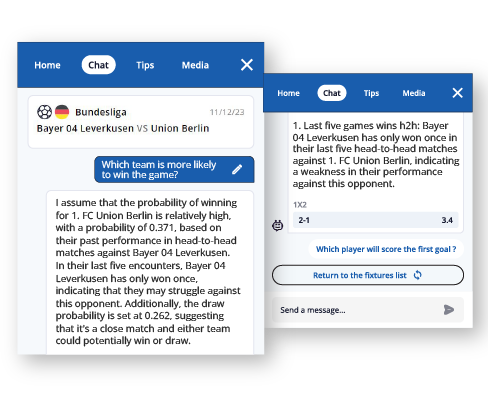 LSports is introducing a revolutionary AI-based large language model to the world of sports betting with SEC (Sports Expert Chat). Powered by technology similar to ChatGPT, SEC is a cutting-edge interactive chatbot and sports data hub designed to operate as a personal sports advisor for bettors. It's specifically crafted to assist sportsbooks in addressing the challenge of attracting new customers and increasing retention rates.
SEC provides actionable insights and guidance to bettors by offering data-driven tips, essential event details, live updates, weather forecasts, and comprehensive statistics. This empowers end-users to make informed decisions and enhances their loyalty to the platform, eventually leading to higher turnover rates for bookies.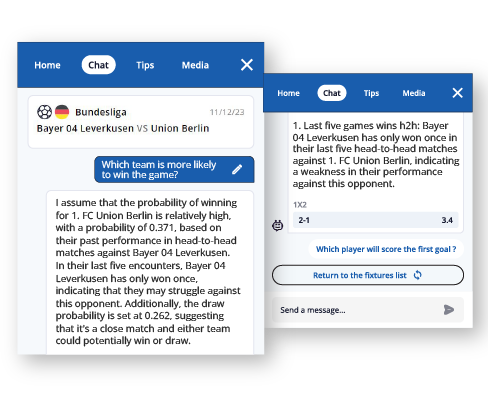 In numbers
1
Single source for sports betting data
+2M
Sports Insights per-year
The SEC In Action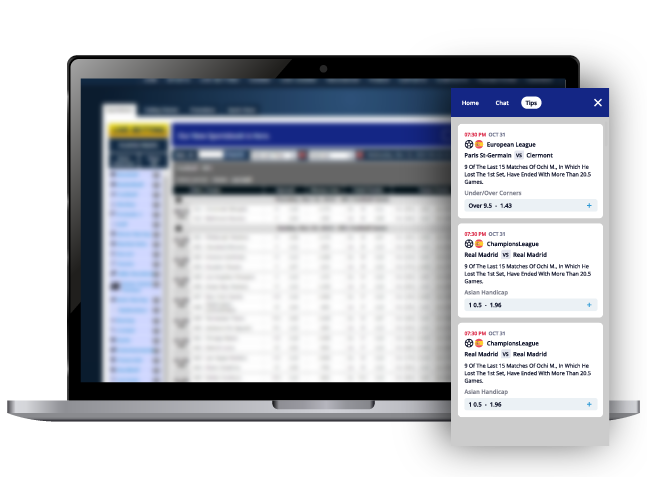 Q&A
How do I integrate SEC?

The SEC offers a web widget consolidating betting tips, data, and chatbots.
The integration consists of two simple steps:
Deploy the widget on your website.
Map your market IDs to LSports markets. and you're ready to enjoy the SEC benefits.

Can any sportsbook operator install SEC on its website?

Totally! The SEC widget supports any web application based on any technology.

Can the user place a bet in SEC?

Yes! The bet slip is fully integrated in SEC.

Can I control the widget style to match my brand?

Definitely. It is designed to easily allow you to customize the widget style to fully match your brand.
Highlights and Benefits
Real-time odds analysis and insights
Personalized player experience with tailored recommendations
Full integration in just one day
Extensive coverage: SEC supports all major sports, markets, and over 100 languages
Unique selling proposition and differentiation for sportsbooks
Increased number of bets and betting volume
Enhanced user engagement: SEC drives an increase in bettors' time spent on the site
Plug your product into
the best sports data feeds
in the world
Contact us