Become a pioneer in shaping Points in Play – Join as an early bird design partner!
Consequently, prioritizing retention has emerged as a cost-efficient strategy for enhancing profitability, though it presents a substantial challenge. Recent research by Betting Hero conducted earlier this year yielded a striking finding: 77% of sports bettors expressed their willingness to transition from their current betting platform to an alternative option. This sentiment is bolstered by a separate study, which revealed that merely 4% of bettors maintain loyalty to a single platform for over a year. These findings align seamlessly with the prevailing consumer trend of favoring convenience over steadfast loyalty.
The question arises: how can sportsbooks maintain the engagement and satisfaction of bettors once they have taken advantage of a generous welcome offer and placed their initial bet on the platform?
A multitude of established bookmakers now offer diverse tools to sustain customer engagement. However, in a saturated market where these tools often appear indistinguishable to users, sportsbooks must present a unique value proposition – a clear differentiation that captures their audience's attention.
While a robust and gratifying player experience remains pivotal to retaining users, the true game-changer lies in personalizing this experience. Customer loyalty to a platform hinges upon its ability to provide a tailor-made encounter, mirroring the personalized experiences that consumers now expect across various industries. This entails an experience that aligns with their expectations and offers targeted solutions to their specific requirements. Despite the substantial appetite among sports bettors for data, blitzing them with generic promotions instead of tailored activations and offers can prove ineffective.
With a legacy dating back to 2012 in the sports betting industry, LSports recognizes the pressing demand for innovative and distinctive solutions. In response, we have recently unveiled an innovative product lineup driven by a narrative of personalization.
In conjunction with TRADE360, LSports' advanced sports trading system, and BPS (Bookie Performance System), which monitors the market and provides real-time recommendations to operators for adjusting their coverage and margins, our product portfolio introduces cutting-edge tools for stimulating betting activity. These tools are meticulously designed to deliver contemporary and interactive experiences to users while concurrently addressing the challenges of differentiation and bettor engagement faced by bookmakers.
The standout offering within this lineup is our groundbreaking Sports Expert Chat (SEC), a sophisticated language model employing technology similar to ChatGPT. SEC functions as a personalized sports advisor, analyzing bookmakers' odds to furnish data-driven tips. Moreover, it supplies bettors with customized insights about specific events of their interest, encompassing relevant news, weather conditions, and statistics.
Another intriguing addition coming soon is "Points in-play," an interactive social betting tool that presents users with captivating contests and activations during live sporting events based on their preferences. This feature heightens the thrill of the betting experience by ensuring bettors engage exclusively with content that resonates with their tastes. Analogous to SEC, "Points in-play" avoids overwhelming users with extraneous information and provides stimulating activations tailored to their favored events.
These innovative offerings undoubtedly empower bookmakers to elevate customer retention in an era where users anticipate more than basic betting odds and lines. Sportsbooks play a critical role in adjusting to the technological landscape and meeting the increasing need for advanced personalized data solutions. Failing to acknowledge this demand might result in their relegation to the sidelines.
What is SEC?
SEC (Sports Expert Chat) is a cutting-edge interactive chatbot and sports data hub powered by technology similar to ChatGPT, providing various benefits:
A fully automated, trustworthy personal sports advisor: SEC delivers actionable insights and expert guidance to bettors by offering data-driven tips, essential event details, live updates, weather forecasts, and comprehensive statistics. This enables them to make informed decisions.
what's in it for sportsbooks?
– Unveiling Real-Time Odds Insights and Updates: Experience the power of SEC's Dynamic Odds Analysis.
– Enhanced user loyalty: Increase users' satisfaction and experience a boost to your turnover rates by delivering bettors comprehensive and relevant data.
– Unparalleled personalized player experience: Dive into the ultimate personalized betting experience through SEC's tailored recommendations to individual preferences.
– Unique selling proposition: Set yourself apart from the competition with a unique product offering that enhances your value proposition to bettors.
Empower your sportsbook, transform the industry!
At LSports, our vision for SEC extends beyond conventional boundaries. We aim to slash your customer acquisition (CAC) costs by 50% and seamlessly convert casual users into active, committed customers.
Don't miss out on an opportunity to revolutionize your sportsbook. SEC is now available for pre-launch – learn all about it here and experience the Future Today!
The world-leading sports data provider presents its groundbreaking sports trading platform. Dotan Lazar, LSports Co-Founder and CEO: "Committed to our product vision, we remain fully dedicated to equipping our partners with powerful tools that will provide them access to an unparalleled wealth of sports data and position them ahead of their competitors"
With its ongoing focus on providing sportsbooks with cutting-edge solutions, LSports is delighted to introduce TRADE360 – a revolutionary sports trading platform that empowers bookies with unparalleled control over their operations. As an enhanced version of our highly acclaimed STM product, TRADE360 offers bookies a set of exclusive game-changing capabilities that no other provider in the industry delivers.
In addition to real-time comparative odds data from different bookies , TRADE360 offers a suite of exclusive features that redefine the landscape of sports trading: A deep analysis tool that compares coverage, uptime, and market numbers, an alerting system that generates notifications for moving handicaps and line/odds mismatches, and an innovative recommendation system enabling operators to automate trading through the trading floor.
TRADE360 serves as a launchpad for LSports' long-term product vision, which goes beyond our exceptional B2B offering. This vision includes a set of cutting-edge and fully personalized engagement and retention tools, led by SEC (sports expert chat), the company's flagship AI based product that utilizes similar technology to ChatGPT. SEC offers users a real-time insights feed connected to their bet slip, enhancing the betting experience like never before.
Dotan Lazar, LSports Co-Founder and CEO: "Just Imagine that within your trading floor, you can now have segmentation capabilities, pushing you CTA alerts when you need to add a missing event to our offer or adjust the margin for different geographical regions, customer sizes, and operation styles (retail vs. online).
"The introduction of TRADE360 showcases LSports' commitment to our new product vision. We are equipping our partners with powerful tools and capabilities designed to position them ahead of their direct competitors. Moreover, we are addressing the challenge of engaging and retaining bettors through a range of advanced technology-driven products set to launch soon. We encourage sportsbooks to seize this opportunity and embrace tomorrow's trends before it's too late."
TRADE360 presents a range of powerful features that contribute to an enhanced sports trading experience. Check them out here.
Revolutionize Your Sports Trading Today!
We would love to demonstrate the features and benefits of TRADE360 in more detail. Don't hesitate to contact us to schedule a personalized demo with our team or discuss how TRADE360 can be customized to fit your unique requirements.
The Indian Premier League (IPL) has gained a massive following over the years, with millions of fans tuning in to watch the matches live or following the scores and updates online. This popularity has resulted in a demand from sportsbooks for fast and accurate real-time sports data and engagement tools to bolster offerings and drive user retention. This is where LSports comes in.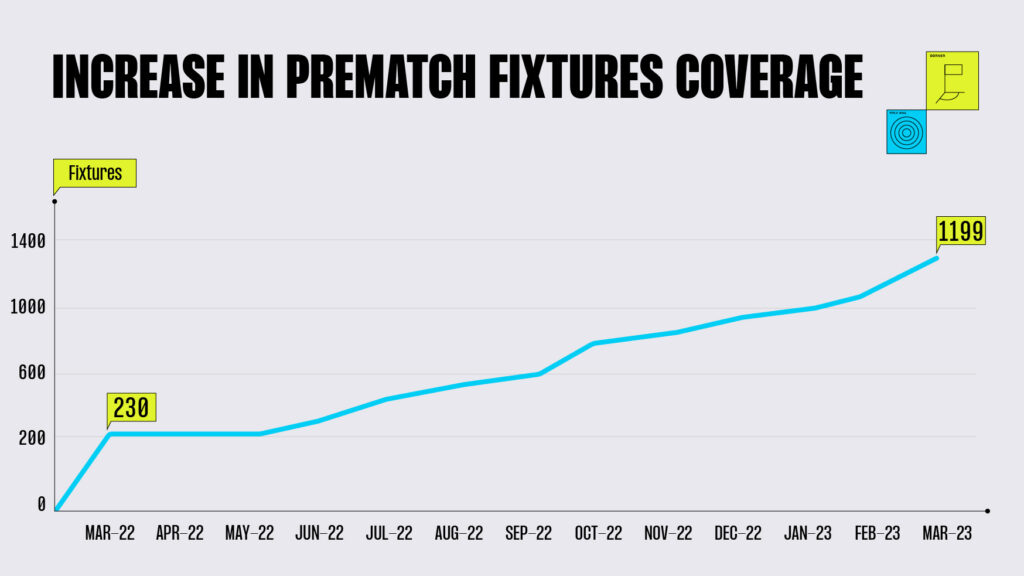 During the past year, LSports has dramatically expanded its coverage of Cricket. In March 2022, we supported 230 pre-match fixtures and 102 in-play fixtures. These numbers increased significantly, and currently stand at 1,199 pre-match fixtures and 420 in-play fixtures.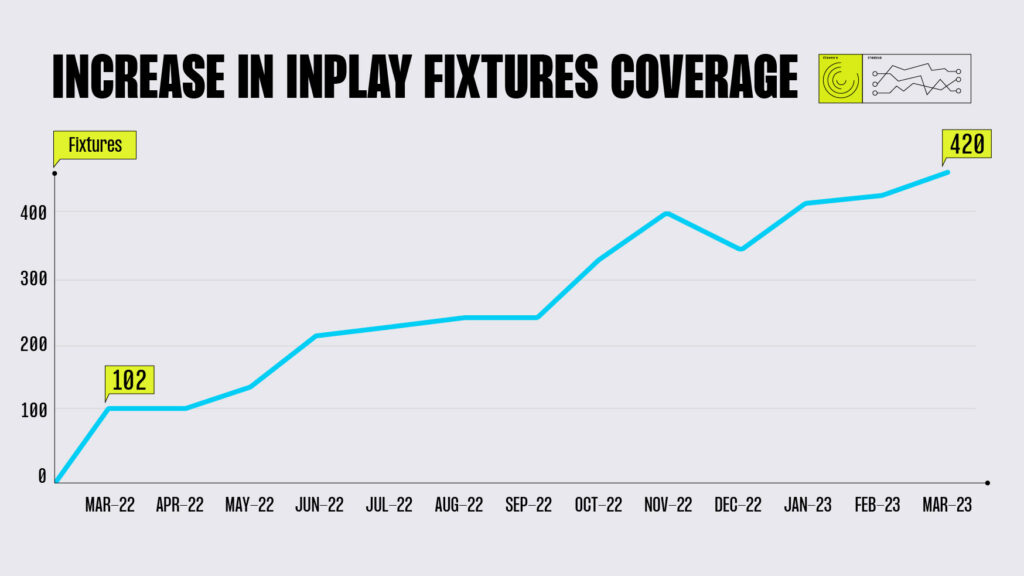 Using STM, our fully automated sports trading manager, bookies can choose their desired fixtures, markets, and settlements and set their preferred margins.
In cooperation with STATSCORE, LSports also arms its clients with Scoutsfeed, a reliable and accurate sports data live score feed delivered by our highly-trained scouts directly from the venues, TV, or our other unique solutions.
To complete the cycle, LSports supports the IPL with BetBooster, its AI-based betting tips tool. With this cutting-edge product, operators can provide their users with hundreds of tips (pre-match & in-play) about cricket matches. The tips are supplied in a feed or a widget with a fully integrated bet slip for easy and fast punter navigation.
Being a leading sports data provider comes with responsibilities. One of them is to constantly feel the market and identify opportunities to grow and expand. In that context, Latin America, undoubtedly one of the world's fastest-growing betting markets, has been a major target in LSports' long-term strategy since it started. Recently we've started to walk the talk with several key strategic steps that underscore our regional intentions.
Originally posted on  Gambling Insider
With its vision of empowering sportsbooks with advanced solutions, LSports is proud to announce the launch of its new cash-out service. This product aims to improve user engagement, allowing bookies to manage risk and reduce their exposure.
This service effectively enables punters to settle their bets before the result of an event is determined. Sportsbook operators can offer them this option, with the cash-out amount depending on several factors, such as the current score of the game, the remaining time, and the odds of the original bet.
Bookies can use cash-outs as an in-game betting feature but can also be offered during the season for outright markets.
ICE 365 has been nothing short of incredible. For us at LSports, the world's biggest and most renowned gaming event was the perfect venue to celebrate the exceptional year we had experienced on all fronts and showcase our flagship products to industry leaders.
And that's exactly what we did. Our stand was triple the size compared to last year's event, we held over 250 meetings in 3 days and had the largest team ever on-site. LSports stood out in the crowd, allowing our representatives to share information about our products, technologies, and the tremendous growth we achieved as a company.
We want to extend a big thank you to everyone who took the time to meet with us. For those who missed the opportunity, don't worry. It's never too late. Contact us here to learn more about LSports and our innovative solutions.